As a Link Builder or SEO practitioner you might be wondering whether is it still worth the effort to do link building and building a backlinks, well I have an answer for your question, link building is still very relevant and important in 2022, want know why, read more in this article.
Almost daily, Google algorithms for search engine ranking change, and digital marketers are forced to guess what search engine optimization (SEO) strategies will be most effective for their business or clients. While Google has developed tools to assist developers and marketers in their SEO efforts, it refuses to reveal what the algorithm's actual criterion is.
Occasionally, we should examine all SEO techniques to see if they are working as intended. The process of link building is ongoing and difficult to master, making it a costly endeavor. In 2022, is link building still important for SEO?
A discussion of the current efficacy and ROI of link building in SEO is presented in this article.
What is the importance of backlinks?
There are a number of factors and tasks involved in search engine optimization, all of which are equally important to the strength and health of your website. Backlinks play a vital role in SEO because they contribute to the domain and page authority of your website, which directly affects ranking in search engine results. It is important to note, however, that backlinks go beyond this.
Backlinks is still a relevant and important part for SEO performance because they are a foundation for Google Algorithm. A backlink signals to Google that another resource considers your content valuable enough to link to it. With additional backlinks, search engines infer that a website has valuable content that is worthy of ranking well.Increased number of backlinks correlates with increased search traffic.
Does every backlink matter?
It is generally desirable to have backlinks, but not all backlinks have the same value. While some are inherently more advantageous to earn, others should be avoided at all costs. Link building and evaluating the health of your backlink profile depend on understanding the factors that influence backlink value.
1. Follow vs. no follow backlinks
A site owner can specify whether an individual link passes link equity or not. Link equity – also known as "link juice" – does not pass from a no follow link to the linking domain. Although followed backlinks from high-quality sites are much more desirable, no-follow links can still improve your brand.
2. Authority of linking domain
There is usually more value (link equity) in backlinks from high authority domains than from low-quality, new, or spammy domains. Spammy websites should be avoided whenever possible for backlinks because it's not going affect negatively to your website SEO.
3. Link relevancy
Backlinks that are irrelevant can be detected by Google. If a clothing shop in Japan links to your marketing company in USA, the backlinks is not really relevant and not going to get much link juice as the backlink received from other marketing website.
4. Link location
The architecture of a website as well as the placement of a link on a page are important to Google. When a backlink is tucked in the footer of a page, it may not pass as much equity as one added within a blog post paragraph.
5. Link number
There is likely not as much value in a backlink listed among hundreds or thousands of links on a single page as one listed among fewer. It would be difficult for a user to locate your link among the hundreds and click through to your content, eliminating value.
6. Anchor text
Anchor text is a visible character or word that displays a hyperlink within content, usually underlined and in a unique color. There are some anchor texts that are considered SEO-friendly, passing more equity than others. It is preferable to use concise, relevant, and non-generic text.
1. Sites with Powerful SEO Have Better Performance
When you look in Google you will see one thing in common, Google love authority sites and when we talk about authority it means that having a number of backlinks from trustworthy and other authority sites. There is a lot of data to support this fact.
A lot of study and proven report have seen that there is big impacts of backlinks on organic search performance.
From Backlinko
"Pages With More Backlinks Tend to Rank Higher Than Pages With Fewer Backlink"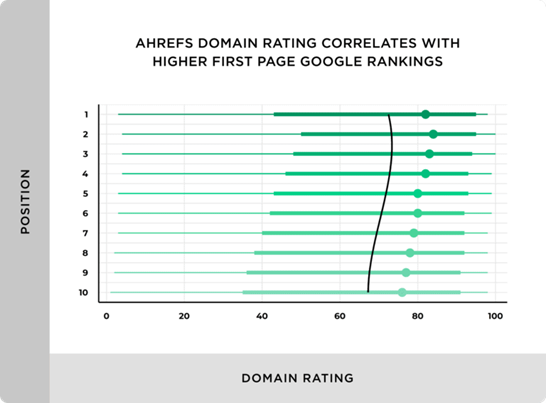 Source : Backlinko
2. The Importance of High – Quality Backlinks
Rank can be achieved without many backlinks hitting a page directly. It's what happens when your site establishes authority.
For example, when CNN published a new article, their article most of the times ranks on the first page in search engines (Without any backlinks). Without saying, CNN is the exception. Most websites will need backlink to increase their chance of rank and showing up in the first page of Google.
There is a data that support this statement from  Ahrefs:
"The more backlinks a page has, the more organic traffic it gets from Google." – Ahrefs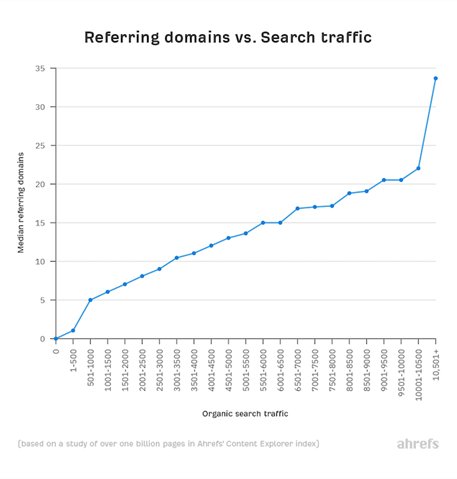 "Only one in every ~20 pages without backlinks has traffic… and the majority of these get 300 organic visits or less each month." – Ahrefs
It is easy to take this data point out of context. Why?
The quality of the links was not specified. Many websites have a high number of backlinks, but their search engine performance is terrible.
This is due to the low quality of their backlink.
Remember:Backlinks from QUALITY sites are the goal.
It's very important to get quality backlinks, because if you get low quality backlinks it is not gonna affect your SEO performance.
High-quality backlinks will lead to more traffic for your website. A high-quality backlink has a good chance of generating high-quality leads because of its nature. Therefore, you should try to earn as many high-quality backlinks as possible.
FAQ Stalinks
What is a link building?
Links are built by marketing efforts to get other websites to link to yours. Search engines consider it one of the most powerful ways to rank your site higher.
Search engine optimization techniques such as link building improve your ranking on search engines. Page relevance is primarily determined by links, which are one of the primary factors considered by search engine algorithms. A website with a lot of links is likely to have valuable content.
What is guest posting?
A guest post is written for another person's blog in order to build relationships, exposure, authority, and backlinks.
Why do guest post articles need more than 1000 words?
To rank well in search engines, your blog post should contain at least 300 words. Longer posts (1000 words or more) rank better than short ones. According to CoSchedule, posts with 2,500 words usually rank well
3. How to Get Backlinks
Now, we go the the most important question how do you get backlinks since you have learn the importance of backlinks, well we have a full article here for you to learn how to get backlinks.
Fiverr
If A great way to get backlinks is by using Fiverr. You can get high-quality backlinks from a variety of sources for just $5.
Before using Fiverr for backlinks, there are a few things to keep in mind. First of all, not all of the backlinks you get on Fiverr will be high quality. It's important to make sure a link comes from a reliable source before purchasing it.
A second risk is that you could get penalized by Google if you pay for backlinks. If that happens, your backlink will be worthless. So, you should pay attention on the links that you choose in Fiverr.
Package Backlinks
There is several brands or SEO agency that offer a package backlinks that offer a package of backlinks with several standard you will get multiple backlinks for your website with a lot of variety of prices but the issue with this type of service is you don't know which websites you get your backlinks from and it comes with an issue because if you get a backlinks from low quality websites is not gonna affect your SEO sites performance and when you pay get a low quality backlinks to your sites Google will easily recognized that and it could resulted on your sites get penalized by Google.
Stalinks
StaLinks is a Digital Marketplace that provides profitable guest posting sites for backlink builders to increase their Google ranking.We connect verified backlink builder and guest posting sites worldwide with competitive prices, quality, and safety.
When you use stalinks services you don't have to worry anymore about getting random quality sites for your backlinks we have a system that will filter sites based on Ahref's score. Our price is affordable, with starting price of $5 you can get a high quality backlinks easily.
My Thoughts on Link Building
We have already learned together that link building is still very important for your SEO sites performance and there is several points how link building can help your SEO for your website
Sites with Powerful SEO Have Better Performance
High – Quality backlinks going to affect positive to your SEO website while Low- Quality backlinks going to affect it in an opposite way
the issue is how are you gonna get started to build links for your sites, don't worry I got your back
to learn more about guest post you can read this article
to learn more on how to get backlinks to your website you can read this article
Last, if you want build a links for your website in a platform that is safe, secure and have 20k+ high quality sites you can register as a buyer into stalinks platform