Understanding Link Juice in SEO: The Importance of Building Quality Backlinks
What is link juice in SEO? Link juice measures the power passed on to a site through backlinks, strengthening it.
Suppose a website references another with a link (DoFollow). In that case, it transmits its favorable properties to an extent (e.g., PageRank, TrustRank) and therefore recommends the point of view of the search engine. The more link juice flows from a link to a linked site, the more emphatic this recommendation is
What is Link Juice?
Link juice is the value or equity passed from one webpage or website to another through hyperlinks. Search engines consider this value as " votes, " indicating that your page is valuable and worth promoting. In SEO, the term "link juice" refers to this concept.
One way to earn links is through direct efforts, such as reaching out to other websites and asking them to link to your content. Another way is through indirect efforts, such as creating high-quality, shareable content that naturally attracts links from other sites. The value or equity passed through these links is known as link juice. Direct effort refers to link-building strategies, such as document sharing, guest posting, social media marketing, press release publishing, and more.
Link juice is the authority passed on to a website through natural links from other sites. This indirect measure is gained by providing high-quality content that encourages readers to share and link to your pages. The authority of the link juice varies depending on the sites linking to your site.
Definition and Explanation of Link Juice
Link juice refers to the value and authority passed on to a website through external links. If two websites, A and B, have the same ranking factors but website A has one link and website B has none, website A will likely rank higher in search results because it is receiving link juice from the external site linking to it. The more links a website has, the more link juice it will receive, which can improve its search engine ranking. However, the authority of the linking sites also plays a role in the amount of link juice passed on.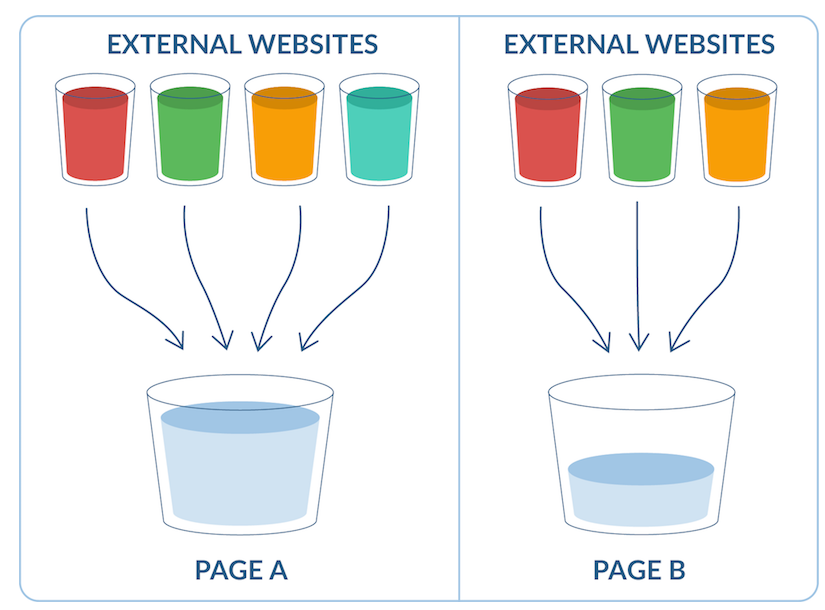 Link juice refers to the value or equity passed from one page or website to another through hyperlinks. This value is important as it is used by search engines as a metric to measure the relevance and credibility of a website. It also helps to build brand awareness and establish a website as a valuable resource within its industry.
How Link Juice Affects Search Engine Rankings
Measuring how people are discussing your content, website, and brand through link juice is essential. Not only is it crucial for your Google rankings, but it also helps in building brand awareness, and reputation, and establishing yourself as a valuable resource in your niche.
How to Build Quality Backlinks 
Strategies for Earning Natural Backlinks 
External links play a crucial role in search engine optimization and are considered one of the most important ranking factors. They act as a third-party endorsement, indicating that your website has relevant and valuable content for users. Search engines, like Google, use algorithms like PageRank to evaluate the value passed through external links, known as link juice, when ranking pages in search results.
How do you go about building backlinks for your site?
hreflang : international target
To effectively reach audiences in different countries, localization or translation of content may be necessary. A hreflang tag is a useful tool for signaling to search engines which version of a page to display based on the user's language or location, ensuring the most appropriate version is shown.
By using hreflang tags, you can direct search engines to the appropriate localized version of your pages, ensuring that users in different countries see the version of your content that's most relevant to them. Additionally, these tags allow for the sharing of link juice between pages, helping to boost their rankings in local search engines. You can even include hreflang tags in your XML Sitemap for an easy and organized way to show search engines all of your translated/localized pages.
Link reclamation
Link reclamation involves finding and fixing old links that point to your pages. Start by using a crawler like Site Crawl or checking Google Search Console's Index Coverage report for URLs that return a 404 status. Then, use a tool like Ahrefs to find links to that page. Once you have the broken link, reach out to the website owner and provide them with an updated URL. This benefits both you and the website owner, as they don't want a dead link on their page. It's crucial to keep in mind that redirecting old links to your homepage or a different unrelated page may lead Google to view your homepage as a soft 404, which can negatively affect your website's conversion rate. This is a common problem for some websites, but it can be easily fixed through link reclamation.
Linkbait content — the skyscraper technique
Generating more link juice for your SEO can be achieved by creating high-quality content that is worth linking to. The skyscraper technique is an effective strategy for this, which involves improving existing content that already receives a lot of links instead of starting from scratch.
This tactic involves identifying popular and well-linked content in your industry and creating an even better version of it to earn more links and boost your SEO:
Enhancing your existing content:

 is a great way to get more link juice for your SEO. One popular tactic is to take a listicle, such as a "Top 10" list, and expand it to a "Top 20" list with more comprehensive information and examples. This not only provides more value to your audience, but it also increases the chances of it being shared and linked to by other websites.

Update the content:

 Depending on your niche, content always needs to be updated. Updating content with the newest information will make it much more helpful and linkable.

Make the content more beautiful:

 Users prefer visual elements, especially regarding data-heavy topics. Infographics are super shareable. Take a bit of ho-hum or data-heavy content and add quality graphic elements.
Once you've spruced up the content, please share it with your audience across social media. Engaging your audience encourages sharing and links.
Outreach
To increase your chances of acquiring valuable backlinks, research your competitors by using tools like Open Site Explorer. Identify the websites linking to your competitors and disregard sources like forums and directories. This will provide you with a list of websites that are relevant to your industry, on-topic, and already linking to similar content.
Use tools like BlogDash to find contact details and recent content of bloggers in your niche. Utilize AuthorCrawler, created by Distilled's Tom Anthony, to find links, crawl them, and display Google+ information.
Before reaching out for backlinks, establish the value of your content by checking target pages for broken links that can be replaced. Use the Check My Links extension to identify invalid links that can redirect to your URL. This demonstrates the value of your content to website owners and increases the likelihood of them linking to your page.
When sending outreach emails, follow a primary or common template when writing to bloggers; this will help your process. Some key elements to include in your template are:
Start by telling them how your article can fill in gaps they missed in their previous blog post instead of sharing something they've already read or written about.

Instead of copying and pasting URLs into the email, try hyperlinking to the blog post or even leaving out the URL entirely; this will make it look like you've taken the time to type the information manually.

Use a unique and specific subject line that doesn't give away the fact that you're reaching out for links; this will help your email stand out among the dozens or hundreds of others the recipient may receive.

Please include your personal contact information in the email to add credibility and make it look less like spam.
The Importance of Relevant and High-Authority Backlinks
Highly Authoritative
Is a link high-authority?
Important to remember that not all links are created equal. Google's algorithm takes into account a number of factors to determine the value or "SEO juice" passed through a backlink, which ultimately affects search engine rankings.
To identify high-authority links, look for big-brand names such as online news sites, reviews, and other reputable sources. A link from a well-known publication like The New York Times, CNN, or Wikipedia, for example, would always be valuable. Additionally, even if a site isn't a big brand, it can still be considered authoritative within its niche.
One way to determine the authority of a site is to use the "smell test." Is the site free of spelling errors? Is it focused on a specific topic or a series of related issues? If a site is deemed trustworthy and relevant, it's more likely to be considered high-authority.
Consider whether or not you would be willing to pay for a link on a certain site. If others have already done so, it's a good indication that the site is valuable. Additionally, using tools like Majestic or Moz to analyze backlinks can provide insight into a site's authority, even if it doesn't have a high "Domain Authority."
Ultimately, the main goal of a link should be to increase traffic, with search engine link value as a secondary benefit. Scoring pages based on their link authority should take this into account, as it's not always necessary to link to a page with a high "authority" if it's not a useful page.
The Consequences of Low-Quality Link Juice 
There are a few consequences of having low-quality backlinks on your website or blog:
First, It's important to note that having low-quality backlinks can harm your reputation. When people click on them and find that they lead to subpar content, it can make your website and brand appear unprofessional and make it harder for others to take you seriously. 
Secondly, having low-quality backlinks can hurt your SERP rank. Search engines (google, yahoo, etc.) use backlinks to give the value of authority, authority, and the relevance of a website. If most of your backlinks are from low-quality or spammy sites, it can signal to Google that your site could be more trustworthy and relevant; this can lead to a lower search engine ranking and make it harder for people to find your site.
Lastly, not regularly monitoring and disavowing bad backlinks can lead to penalties from search engines. If Google detects a pattern of low-quality or spammy backlinks pointing to your site, they may penalize your site and lower your search engine ranking; this can be a difficult and time-consuming process to recover.
In conclusion, monitoring and maintaining the quality of your backlinks is essential to ensure they are helping and not hurting your search engine rankings and online reputation.
How Spammy or Irrelevant Backlinks Can Harm Your SEO 
A toxic backlink can crush your SEO efforts and hurt your site's rank and reputation in SERP.
Toxic Backlinks are when they are not editorially relevant, look unnatural, or come from a low-quality referring domain.
Acquiring links often involves tactics such as:
link farms

reciprocal links schemes

black-hat SEO tactics (strategies that go against Google Webmaster guidelines).
=============================
Just take a look at this study by Semrush. They collected data on over 830 backlink website profiles that been hit by penalties in the past 2 years: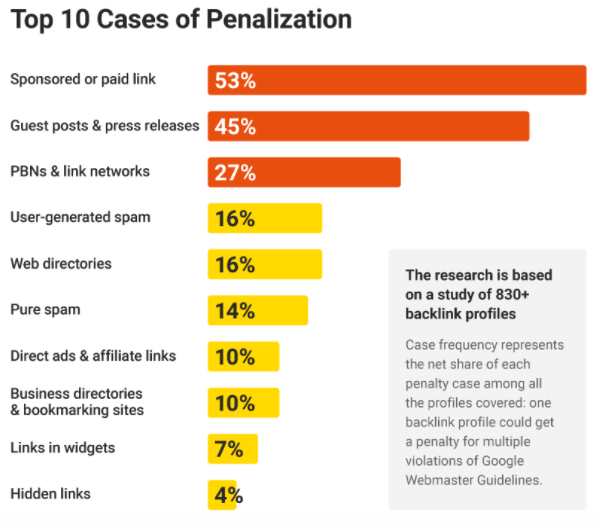 In some cases, your competitors may even add spammy, low quality outbound links pointing to your site.
Why?
The aim is to hurt your rankings and take your hard-earned positions in the SERPs.
Talk about "black hat."
Search engines detect and devalue low-quality links. Google's Penguin update, released in 2012, penalizes websites that acquire undesirable links, known as a bad backlink profile.
The Importance of Regularly Auditing and Disavowing Bad Backlinks
If you gonna do backlink audit, here are just two things to look at here:
Low quality

 – these links highlighted are low-quality referring domains with no DR or DA.

Blogspot

– the domain names (Blogspot, a free blogging and domain service provider)
Blogspot often used by spammers to increase domain authority. Be cautious about receiving links from it, but it's not always bad if it's legitimate and beneficial.).
Don't overlook the potential of spammers using BlogSpot to boost domain authority. Check for relevance and pop-ups. Regularly audit and disavow bad backlinks. They help search engines understand and determine the importance of your website.
However, not all backlinks are created equal. Some websites may have low domain authority or be considered spammy, which can negatively impact your search engine ranking. That's why it's important to regularly audit your backlinks and disavow any harm to your website. By doing so, you can maintain the quality of your backlinks and improve your website's search engine ranking. Disavowing bad backlinks can also protect your website from penalties from search engines.
Tools and Resources for Tracking and Analyzing Backlinks 
Semrush.

SE Ranking.

Majestic.com.

Backlink Tracker by Linkody.

Ahrefs.

Moz Pro-Link Explorer.

Backlink Checker.

cognitiveSEO

LinkResearchTools

Monitor Backlinks

Link Assistant – AIO SEO

Serpstat

Link-Assistant
Conclusion: What is link juice in SEO? The Role of Link Juice in SEO 
Google introduced PageRank to measure a website's ranking based on its backlink profile. However, PageRank is just one aspect considered in Google's algorithm for determining a website's search engine rankings.
Why limit which pages receive more link juice? Not all links need or deserve a share of the page's link juice. For example, linking to a source in a blog post is necessary, but that source doesn't need the company's link juice. 
Google doesn't need to rank links such as addresses, contact, login, and terms of use. Avoid wasting link juice on these links. Use the "no follow" attribute to strategically distribute link juice and optimize SEO. 
Direct link juice to valuable pages like products, related blog posts, partner pages, and content offerings for better evaluation by Google's algorithms.
How to Continuously Monitor and Optimize Your Backlink Profile for Better SEO Performance.
Regularly auditing and disavowing bad backlinks is essential for maintaining a healthy and effective backlink profile. A backlink audit involves analyzing all the links pointing to your website and identifying any that may harm your SEO performance. These can include links from spammy or low-quality websites, links using manipulative anchor text, and links from sites that have been penalized by search engines.
Disavowing these wrong links involves telling search engines to ignore them when evaluating your website; this can help protect your website from any adverse effects these links may have on your search engine ranking.
To continuously monitor and optimize your backlink profile, it's essential to check for new backlinks regularly and the status of existing links; this can be done using tools such as Ahrefs, Majestic, and SEMrush. These tools can provide valuable insights into the quality and relevance of your backlinks and help you identify new opportunities to acquire high-quality backlinks.
Additionally, actively building relationships with other websites and creating high-quality content can attract natural, organic backlinks to your website; this can also diversify your backlink profile and reduce your dependence on any single source of backlinks.
Overall, continually monitoring and optimizing your backlink profile is an essential part of any effective SEO strategy. It helps ensure that your website receives the best possible link juice and is seen as credible and authoritative by search engines.
A highly adaptable and enthusiastic individual with a solid background in SEO and a passion for all aspects of SEO and digital marketing